I'm excited to reveal our newest design, "Matisse." French painters have been a strong inspiration for me as long as I can remember. Growing up in my family's house in Wisconsin, we had a large print of Matisse's "The Goldfish." I remember looking up at it, captivated by the reflection of the orange goldfish on the surface of the water. When I lived in Paris in 2008, I spent long afternoons in art museums, taking in the colorful art of
Matisse, Monet and Picasso. One sunny June morning in my workshop, I was inspired to create a new design that is romantic and evokes impressionist art. I was inspired by the use of purple in Matisse's art– he uses an abundance of purple to paint flowers, fabrics, and shad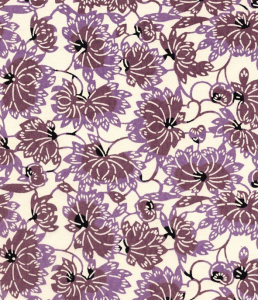 ows. I found the perfect stunning purple paper to begin the design- a traditional Japanese Katazome-Shi paper, whose purple colors are derived from the pulp of persimmon fruit.
Matisse dedicated his art to showing the "joie de vie"– the joy and poetry of everyday life. His works have a way to express the beauty of the simple things that surround us- fruit, flowers, fish. He painted women in a way that reveals the mystery and luxury that you can uncover in everyday life. You can see the final piece- the "Matisse" paper earrings and necklace, here at paper-anniversary.com.