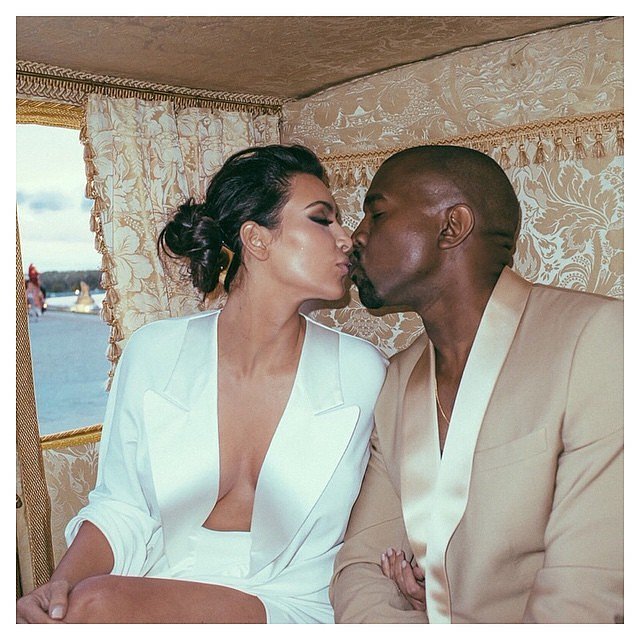 America's most talked about celebrity couple will be celebrating their one-year wedding anniversary this weekend. Kim Kardashian and Kanye West are planning to celebrate their one year of marriage in Paris, France. West reportedly rented out the Eiffel Tower and its restaurant 58 Tour Eiffel in a grand gesture to renew their vows.
One year ago on May 24, 2014, the celebrity couple got married in a lavish ceremony in Florence, Italy, after a rehearsal dinner at Palace of Versailles. The City of Light holds special importance to Kardashian, who said at one time, "We fell in love in Paris."
While some fans are excitedly anticipating the details of their anniversary, critics are concerned about why the couple is celebrating in such an excessive way, after being married for a mere 365 days.
Anna Van Tuinen, Chief Designer of Paper Anniversary by Anna V., explains, "The first wedding anniversary is traditionally a humble one." According to an age-old tradition, couples are supposed to give each other a gift made of paper for the first anniversary. "Paper symbolizes the modest beginning of a marriage."
In the last five years, celebrity couples have been celebrating each anniversary in more impressive ways. Observing this trend, Anna V started her company in the start-up center of San Francisco. Their mission is to help couples plan a romantic and unforgettable first anniversary, as well as find traditional paper gifts.
Will Kardashian and West honor the humble paper tradition? Anna V speculates, "I think their anniversary will be more sparkle, lights, and champagne."