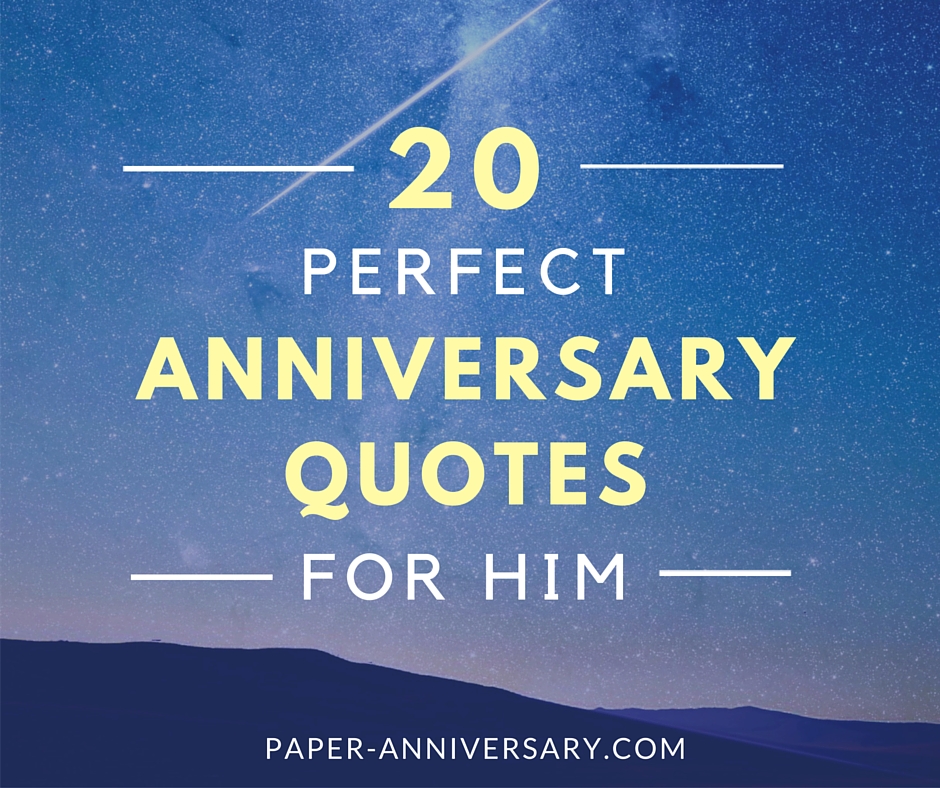 On your anniversary, every wife wants to let her husband know just how special he is. Our 20 perfect anniversary quotes for him will help you convey your love in just the perfect words!
Surprise him with a romantic love note when he wakes up. Not sure what to write? Try including one of these romantic anniversary quotes for him in your love letter or anniversary card. Tailor them to add your own special touch. Try to include memories that are special between you and your husband. No matter what you do, include one of these 20 anniversary quotes for your husband to let him know he is still the only man for you.
"The minute I heard my first love story I started looking for you, not knowing how blind that was. Lovers don't finally meet somewhere. They're in each other all along." -Jalal ad-Din Rumi
 "Every heart sings a song, incomplete, until another heart whispers back. Those who wish to sing always find a song. At the touch of a lover, everyone becomes a poet."
― Plato
 "You have touched a part of my heart that no one else has ever been able to get to. I will love you forever."
-Anonymous
"You've given me a reason to smile and a reason to be happy. Just knowing that you love me is enough to make my life complete."
-Anonymous
"I love you, not only for what you are, but for what I am when I am with you."
-Elizabeth Barrett Browning
 "You're the only person who has ever made me feel truly special. When I am with you, I am home."
-Anonymous
 "The best love is the kind that awakens the soul; that makes us reach for more, that plants a fire in our souls and brings peace to our minds. That's what I hope to give you forever."
-Nicolas Sparks
"I knew the moment that I met you, you were going to be something special. I just knew."
-Anonymous
"Love is not about how many days, months, or years you have been together. Love is about how much you love each other every single day." -Anonymous  
"You know you are in love when you don't want to fall asleep because reality is finally better than your dreams."
-Dr. Seuss
"My love for you has no depth, its boundaries are ever-expanding. My love and my life with you will be a never-ending story."
– Christina White
"You put so much joy into every day of life. Because of you, my life is worth living."
-Anonymous
"There is never a time or place for true love. It happens accidentally, in a heartbeat, in a single flashing, throbbing moment."
– Sarah Dessen
"Life with just makes sense. I don't ever have to think about it, it just comes naturally."
-Anonymous
"You are the first thing I think about when I wake up and the last thing I think about when I go to sleep, ensuring I have a pleasant day and sweet dreams."
-Anonymous
"If I could give you one thing in life, I would give you the ability to see yourself through my eyes. Then you would know just how special you really are."
-Anonymous
"And I'd choose you; in a hundred lifetimes, in a hundred worlds, in any version of reality, I'd find you and I'd choose you." – Kiersten White, The Chaos of Stars 
Our Favorite Anniversary Quotes for Him
Men often appreciate simple gestures, so our top choice of the anniversary quotes for him is short and sweet:
If I know what love is, it is because of you. -Herman Hesse.
We love how it shows your man respect and honor for what his love have added to your life! He's sure to feel proud, and loved with these perfect words.
If you write down any of these sweet anniversary quotes for him, he is sure to have an anniversary you'll never forget. Let your man know that you love him just as much today as you did the day he slipped the wedding band onto your finger! What are your creative ideas for incorporating these love quotes in your anniversary?
You may be interesting in the following anniversary quote resources: