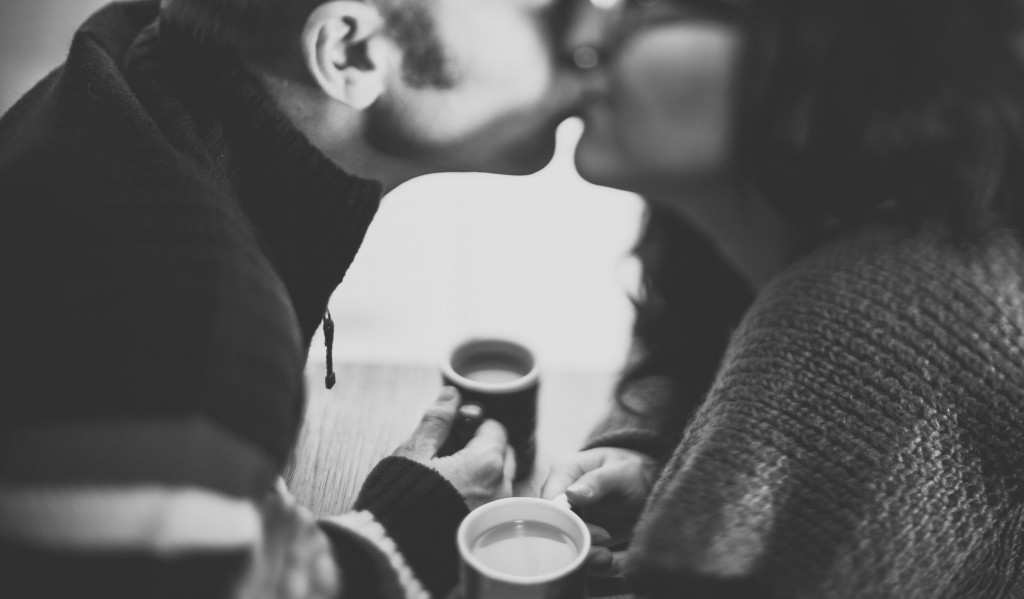 Your anniversary is a time to celebrate everything you love about your husband. Why not celebrate by using one of these 10 epic anniversary poems for him?
Try writing one of these love poems on his anniversary card. Hide the card in his car for him to find the morning of your anniversary. If you want to be a little more creative, try writing one of the anniversary poems for your husband down on a piece of pretty stationary that you sign with a kiss! Tape it to your front door for your husband to find when he arrives home from work. He is sure to come through the door with a smile that goes ear to ear. Whatever you chose to do, your husband is sure to never forget this anniversary.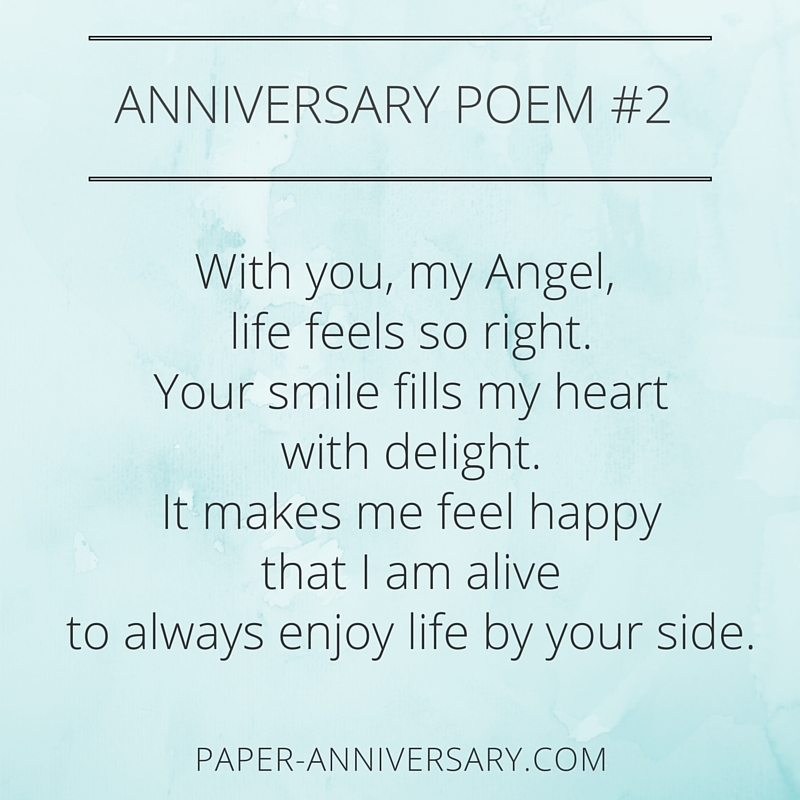 You have always been the star of my dreams
Day by day, you've become hotter it seems
A magnet that pulls me closer, is you
Not just attraction, it is love so true
Here's a toast to our beautiful bond
Let's be immersed in its blissful pond
Like old times, let's just cuddle
Let's get lost, in love's dreamy bubble
-Anonymous
Every night as I lay on my bed,
Your thoughts begin to fill my head.
When I fall asleep, in my dreams
It is your pretty face that I see.
With you, my Angel, life feels so right.
Your smile fills my heart with delight.
It makes me feel happy that I am alive
to always enjoy life by your side.
Happy Anniversary!
-Anonymous
---
Our wedding anniversary brings to mind
The happiness and joy you've brought to me,
Sweet memories–the laughter and the tears,
Devoted love you give abundantly.
The place I want to be is close to you;
There's ecstasy and peace in your embrace.
I know that I can cope with what life brings,
As long as I wake up to see your face.
You're all I ever wanted, and much more.
I look at you and I still get a thrill.
Our marriage is the best thing in my life;
I love you deeply, madly, and I always will.
–Joanna Fuchs
---
Husbands like you
These days are quite few
Handsome and witty
Strong and nifty
Caring and protective
Giving me life's beautiful perspective
I wish you a Happy Anniversary
Cheers to the perfect pair, you and me.
-Anonymous
---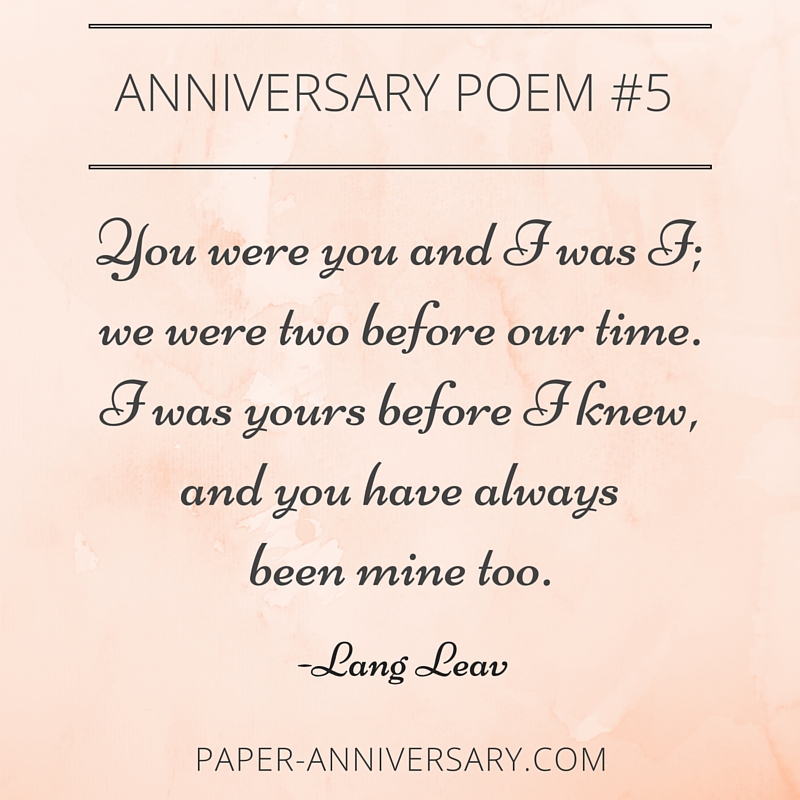 You were you,
and I was I;
we were two
before our time.
I was yours
before I knew,
and you have always
been mine too.
-Lang Leav
Once upon a time
I became yours
and you became mine.
We will be together
until the end of time.
Happy Anniversary!
-Anonymous
---
How do I begin to tell you how lucky I am to have you in my life?
I'll start by saying what an honor it is for me to be your wife.
You're my best friend in the good times and my rock in times of sorrow.
You're the reason for sweet yesterdays and my promise for tomorrow.
I never thought I could feel this loved until I became your wife.
You made this year and every year the best one of my life.
-Anonymous
---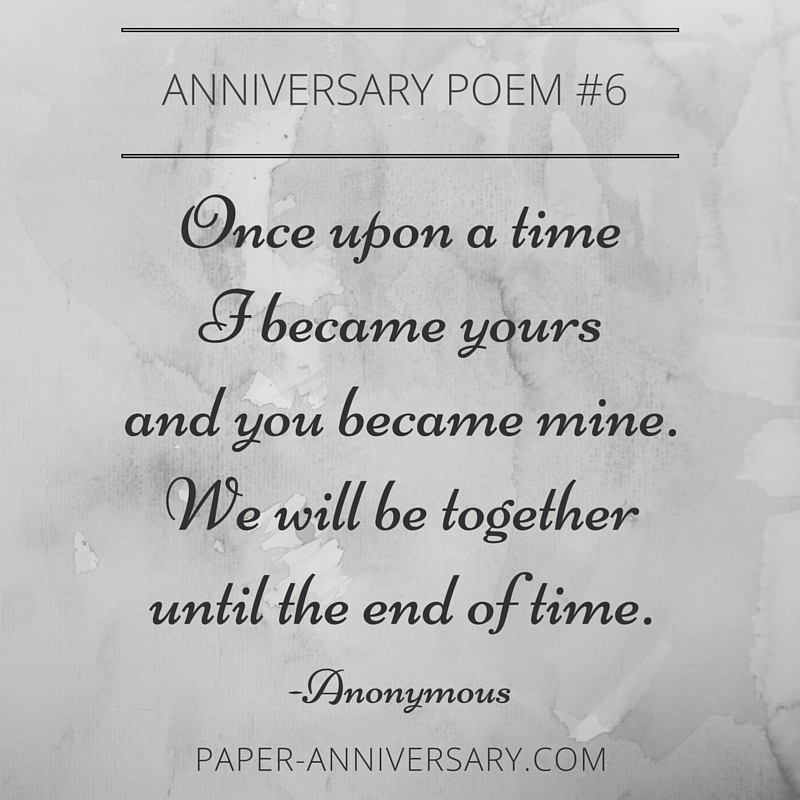 One year of holding hands
One year of hugging,
One year of laughing,
One year of cuddling.One year of loving
One year of kissing
One year of touching
One year of romancing.One year of your love
One year of my love,
One year of our love
One year of true love.
Baby one year with you
Is a year of happiness,
A year of passion,
A year of joy,
A year blessed.
– Melissa Joseph
---
For better or worse, through thick and thin,
You've been there by my side Sharing the laughter and the tears
Through life's uncertain ride. We don't know what the future
Has in store for you and me
But this I know, without a doubt: The best is yet to be.
Happy Anniversary, you darling man.
–Anonymous
---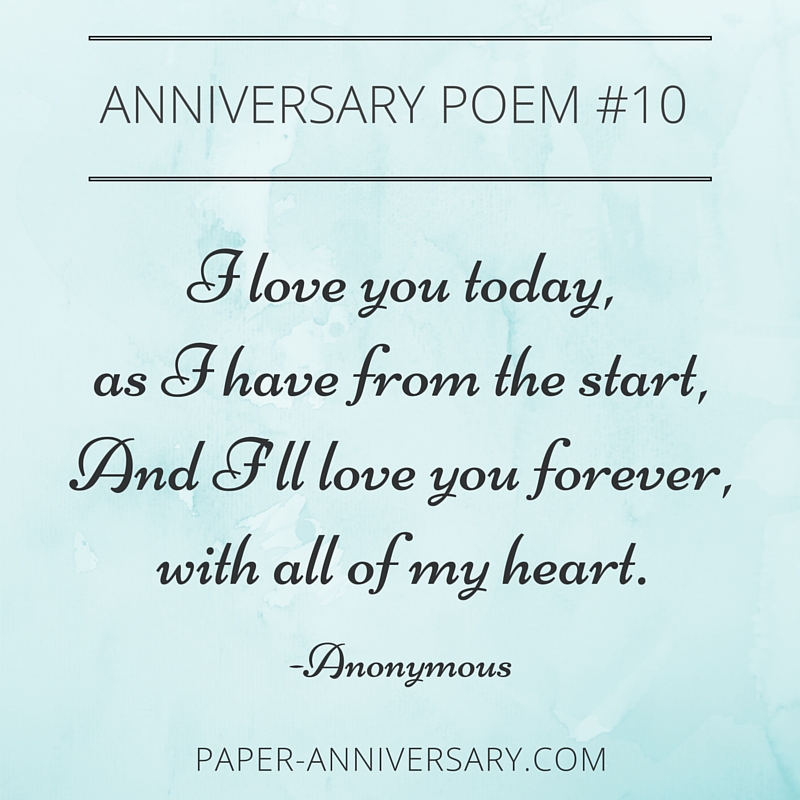 I love you so deeply, I love you so much,
I love the sound of your voice,
and the way that we touch.
I love your warm smile,
and your kind, thoughtful way,
I love you today, as I have from the start,
And I'll love you forever, with all of my heart.
Happy Anniversary, darling.
–Anonymous
---
Our Favorite of the Anniversary Poems For Him
An anniversary poem for him should be simple and sweet– that is why we love this poem!
Once upon a time
I became yours
and you became mine.
We will be together
until the end of time.

-Anonymous
Your husband is sure to beam with pride and happiness when he reads this love poem.
Let your husband know that he is the most amazing man in the world. If you choose any of these 10 anniversary poems for your husband on your anniversary, he is sure to know what an amazing man he is in your eyes. What are some fun, playful, and creative ways you would share one of these anniversary poems for him?