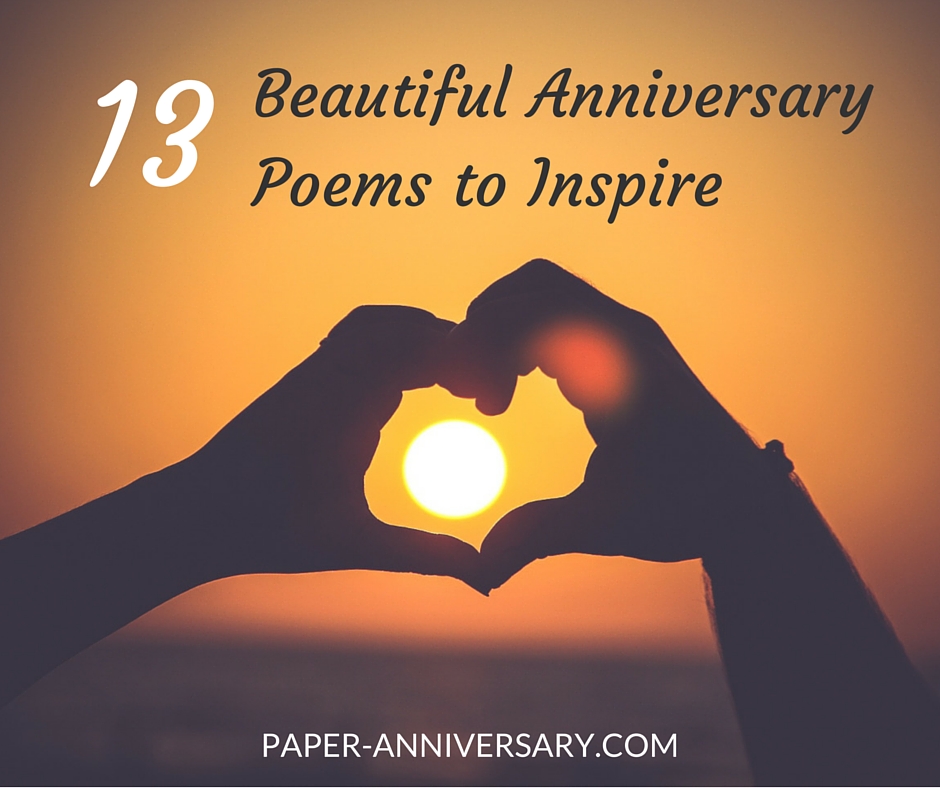 Are you writing an anniversary card to your spouse or to a couple? Including beautiful anniversary poems is the perfect way to express your love and good wishes!
When your anniversary comes around you want to show your spouse just how magical the time you have spent with them has been. Why not tell them how they make your heart soar by giving them an anniversary card with a romantic anniversary poem written inside? You can even up the romance factor by writing the anniversary poem on a piece of paper, then roll it up and place it into a bottle! Who doesn't love the romantic, vintage idea of a love message in a bottle on an anniversary? Whatever way you decide to give them one of these anniversary poems, your spouse is sure to feel like the most special person in the world. Here are 13 anniversary poems that are sure to inspire the heart of your beloved and kindle that romantic fire the two of you have had burning for so long. Don't forget to add your own special touch to the anniversary poem to tailor it according to your own personal love story.
Anniversary Poems to your Spouse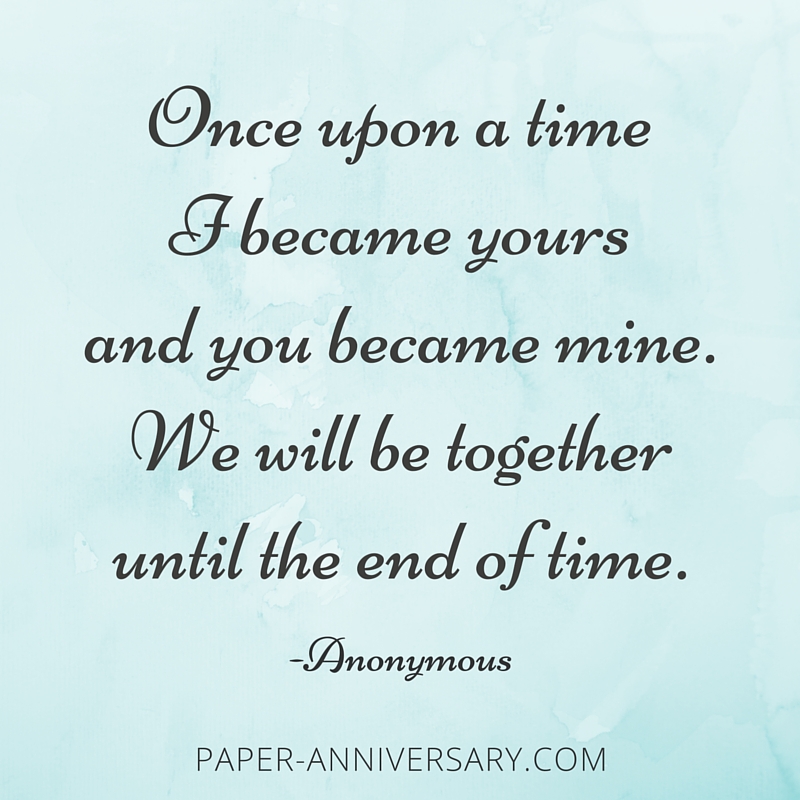 Once Upon a Time
Once upon a time
I became yours
and you became mine.
We will be together
until the end of time.
-Anonymous
If…
If kisses were raindrops,
I'd send you showers.
If hugs were seconds,
I'd send you hours.
If smiles were water,
I'd send you the sea.
-Anonymous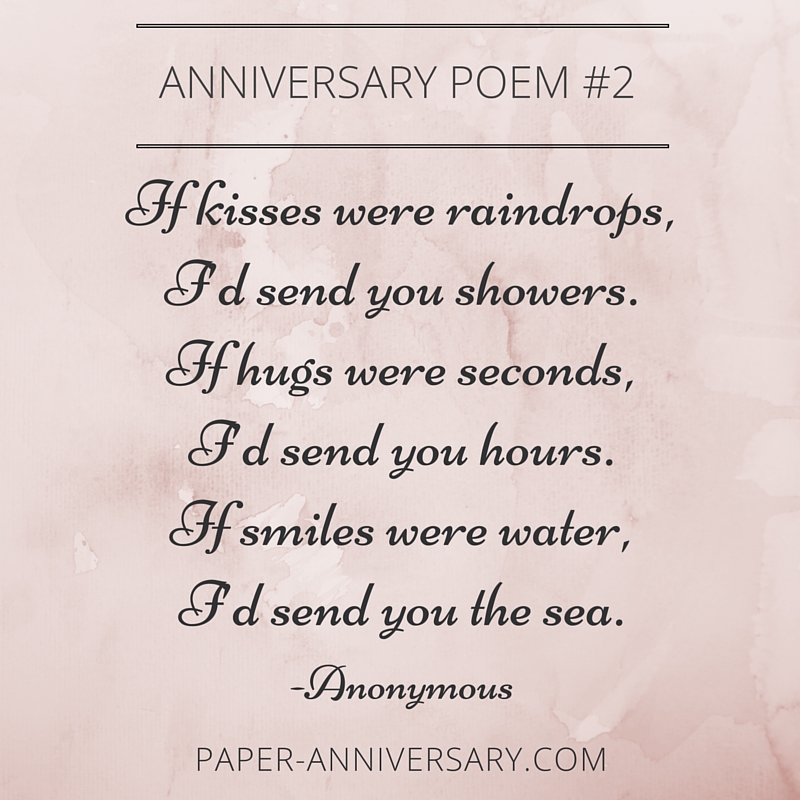 Mine
You were you,
and I was I;
we were two
before our time.
I was yours
before I knew,
and you have always
been mine too.
-Lang Leav

Alive
Every night as
I lay on my bed,
Your thoughts begin
to fill my head.
When I fall asleep,
in my dreams
It is your pretty
face that I see.
With you, my Angel,
life feels so right.
Your smile fills my
heart with delight.
It makes me feel happy
that I am alive
to always enjoy life
by your side.
-Anonymous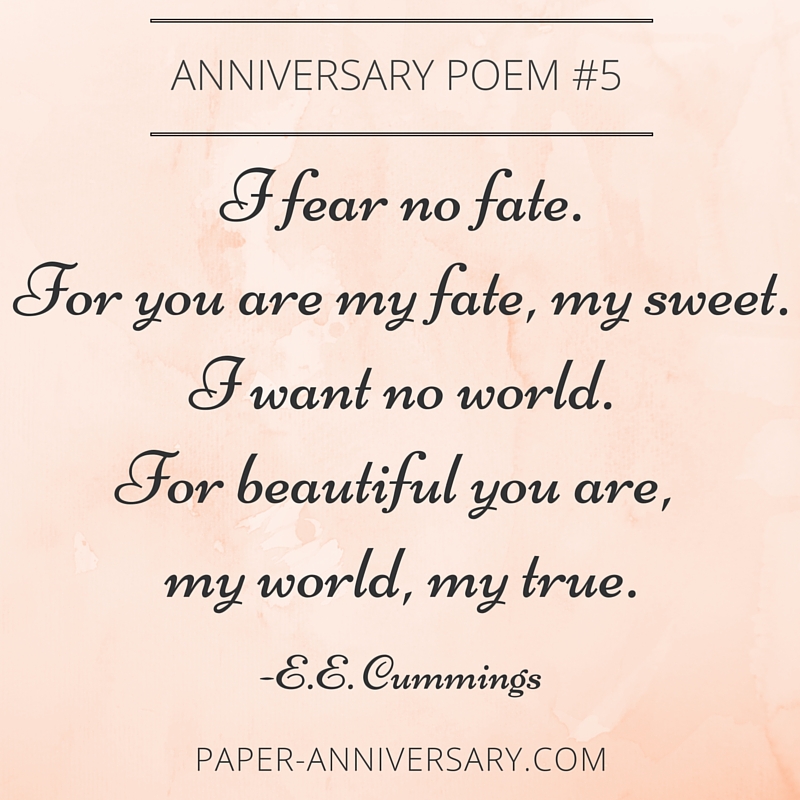 I Carry
I carry your heart with me.
I carry it in my heart.
I am never without it.
Anywhere I go you go, my dear;
and whatever is done by only me is your doing, my darling.
I fear no fate.
For you are my fate, my sweet.
I want no world.
For beautiful you are my world, my true.
And it's you are whatever a moon has always mean
and whatever a sun will always sing is you
here is the deepest secret nobody knows.
Here is the root of the root and the bud of the bud
and the sky of the sky of a tree called life;
which grows higher than soul can hope or mind can hide.
And this is the wonder that's keeping the stars apart.
I carry your heart.
I carry it in my heart.
-E.E. Cummings
Stronger Still
When I first met you all those years ago,
I fell in love so fast, I knew right then,
You were the one and only one for me;
I'd never have to look for love again.
Each anniversary finds us happier;
You are my light–my moon, my star, my sun.
You show me what real love is all about,
You fill my life with pleasure, joy and fun.
As time goes by, our love grows stronger still.
You're the most amazing (man/woman) I ever knew.
I prize our anniversaries because
Each year I fall in love again with you.
–Joanna Fuchs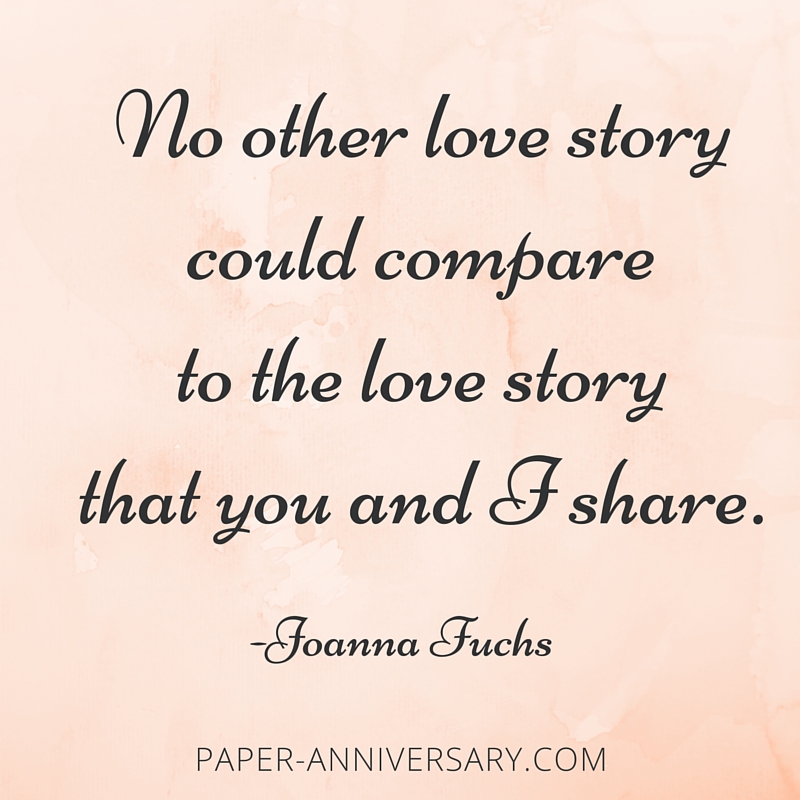 Love Story
No other love story
could compare
to the love story
that you and I are so lucky to share.
(Years) ago today
we finally said, "I do"
And that's when all of
our wildest dreams came true.
Happy Anniversary!
I love you!
-Anonymous
A Rejoicing Wish
This beautiful and memorable day,
has been carved into my mind.
A precious moment in time,
when our lives became defined.
Let's rejoice and celebrate,
our love and our bond.
I cherish what we have,
with my heart I respond.
This journey of life is so sweet,
with you by my side.
My smile radiates,
with each passing stride.
Whether one or a thousand,
journeys we take.
With you by my side,
I feel alive and awake.
My soul is filled with bliss,
due to the love that we share.
I promise you my dear,
I will always be there.
To the stars and the heavens,
our anniversary I shall proclaim.
My love for you burns like the sun,
with an infinite flame.
-Anitapoems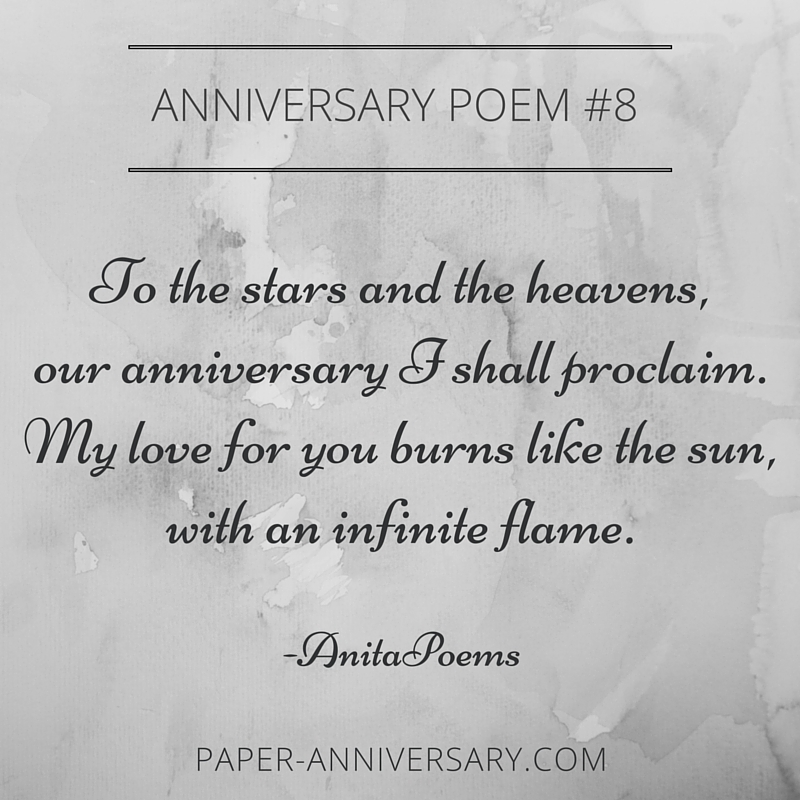 Joy
The day we both walked,
down our wedding isle.
I couldn't help,
but joyously smile.
My tears of happiness,
were so hard to suppress.
My whole life lit up,
the moment you said yes.
We've been through,
so much together.
We can outlast,
the harshest cold weather.
I will always love you,
and show you respect.
It's our wedding anniversary,
Let's spend time and connect.
My smile is peaceful and calm,
while I look straight ahead.
As long as we have each other,
our hearts shall be fed.
Thank you for loving me,
with your heart and soul.
When we are together,
I feel completely whole.
-Anitapoems
In No Hurry
There is still a long way that we have to go,
but I want to take it nice and slow
so I can savor each and every moment
that I get to spend with you.
I'm hoping that you cherish such lovely memories too
Let's bask in the joy of counting away
the blessing that life gives us every single day.
Happy Anniversary!
-Anonymous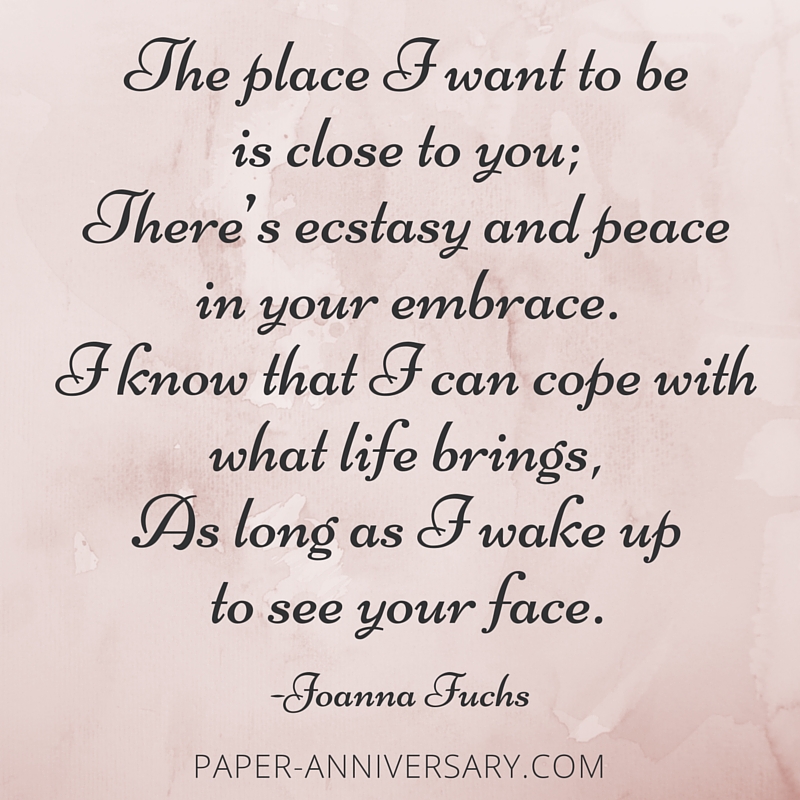 The Place I Want to Be
Our wedding anniversary brings to mind
The happiness and joy you've brought to me,
Sweet memories–the laughter and the tears,
Devoted love you give abundantly.
The place I want to be is close to you;
There's ecstasy and peace in your embrace.
I know that I can cope with what life brings,
As long as I wake up to see your face.
You're all I ever wanted, and much more.
I look at you and I still get a thrill.
Our marriage is the best thing in my life;
I love you deeply, madly, and I always will.
-Joanna Fuchs
Anniversary Poems to a Couple
Heartfelt Wishes
Your anniversary is a time
For sharing your affection;
It's obvious the two of you
Have quite a deep connection!
We send glad congratulations
And heartfelt wishes, too,
For joyful happiness and love
In everything you do.
-Joanna Fuchs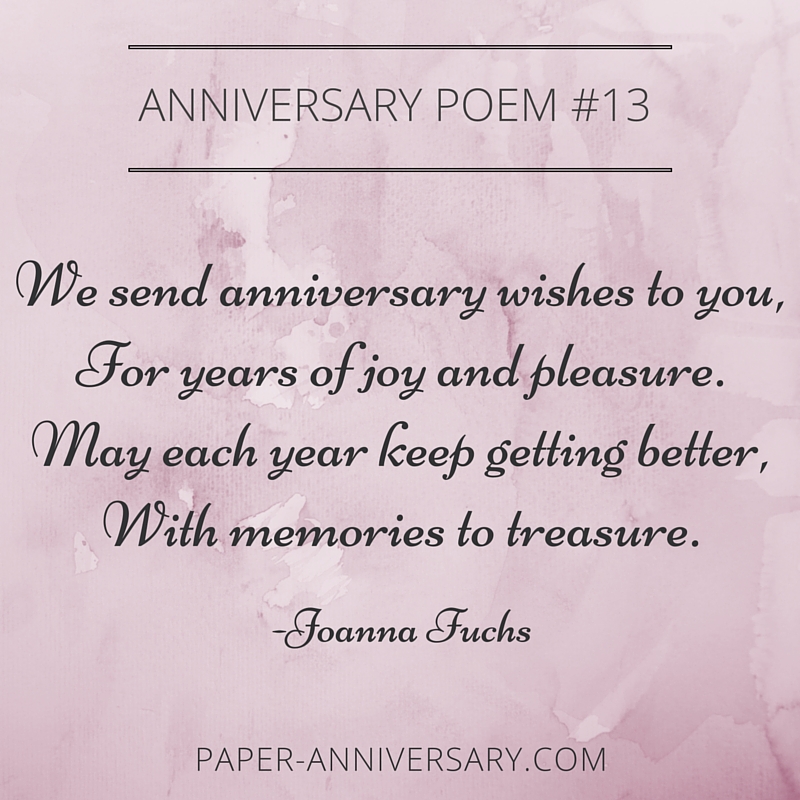 It Takes Two
It takes two special people,
To make a loving pair.
There's a joy just being around you,
A feeling we love to share.
We send anniversary wishes to you,
For years of joy and pleasure.
May each year keep getting better,
With memories to treasure.
-Joanna Fuchs
Our #1 Favorite Anniversary Poem To Inspire You
Everyone wants their spouse to know how special they are, and how perfect life is because of them. That is why this our favorite anniversary poem:
Once upon a time
I became yours
and you became mine.
We will be together
until the end of time.

Happy Anniversary!
-Anonymous
You may not be a skilled poet, but using any of these anniversary poems in a romantic letter to your spouse is the perfect way to ignite your romantic flame. If you use any of these anniversary poems you are both sure to have a romantic anniversary neither of you will ever forget.
What is your favorite anniversary poem that you and your spouse have shared with one another? Let us know!